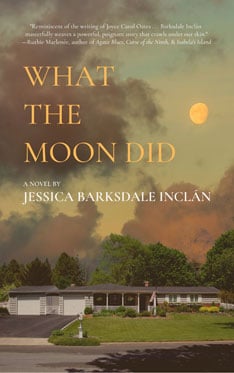 "Reminiscent of the writing of Joyce Carol Oates (and arguably as prolific as the writer), Barksdale Inclan masterfully weaves a powerful, poignant story that crawls under our skin. Twelve-year old Mary Jo must live with her dark secret so that the family might save face and so as to keep the tight-knit community from unraveling.

Using a nonlinear narrative, Barksdale has developed tragically real and evocative characters, skillfully built the worlds they live in, while at the same time adroitly creating suspense. Emotionally gripping and unputdownable, What the Moon Did is a sweeping family saga, we'll not soon forget."
- Ruthie Marlenée, author of Agave Blues, Curse of the Ninth and Isabela's Island
"What the Moon Did is a masterful telling of a family's hidden tragedy and the unhealed wounds that long ripple throughout their lives. Inclán reveals each character's journey with clear-eyed wisdom and empathy, weaving a powerfully real and intimate drama that haunted me after I finished the last page."
-Lynn Sheene, author of The Last Time I Saw Paris