Walking with Her Daughter
When the life of Jenna's daughter is cut short in a matter of seconds, the forty-five-year-old professor must survive the grief that threatens to consume her, and come to terms with her relationship with her ex-husband and a newfound attraction to a younger colleague. And when events again take an unexpected turn, Jenna is blessed with another chance to correct the mistakes of the past, open her heart more fully, and embrace the fragility and miracle of life made new.
"In this fifth novel 'Walking With Her Daughter', you will experience a touching and profoundly daring story about one woman's grief, survival, growth and hope for the future. I truly believe Ms. Inclan has outdone herself with this one!!" a
Barnes and Noble customer.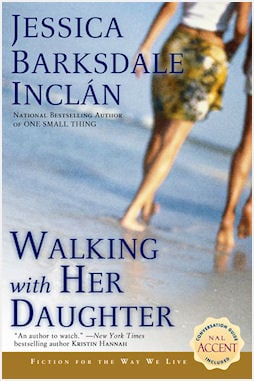 "Jenna Thomas is in Bali doing the unthinkable, looking for her daughter, Sofie, allegedly the victim of a terrorist attack. She prays that it is a mistake, but when Sofie's body is found, Jenna must confront the fact that her young, beautiful daughter is dead. Her ex-husband, Mark, finds her at the hotel, and they console each other physically, something they haven't done since the divorce and Mark's remarriage. Then, after Jenna goes home to California, her life starts to unravel. She can no longer sympathize with her students at a community college: they are alive and her daughter is dead. She also must deal with her younger boyfriend, Tim. He reminds her of youth, and she is having a hard time being alive while the daughter who was everything to her is no more. As Inclan delves into one woman's pain as she reconciles loss with a new life, she grants readers insight into the resiliency of the human spirit in a touching and very human story."
Patty Engelmann
Booklist