Booklist praised Her Daughter's Eyes as "a modern-day depiction of familial disintegration with offbeat twists and luminous sparks of hope." Now, Jessica Barksdale Inclán reveals the closely intertwined lives of four women-their struggles to be good wives, mothers, friends-and the troubled secrets they hide.
Every summer, Felice, Helen, Stella, and Grace meet at Oakland View Swim and Tennis Club, watching their children learn to swim, slowly becoming friends. After seven years, there is no reason to think things will ever change-until the summer Grace's illness returns. On the brink of crisis, as the women try to help Grace confront a trauma that begins to seem quite different from what she claims, they are forced to examine their own lives....and face a painful truth. That they don't really know Grace-or themselves-at all...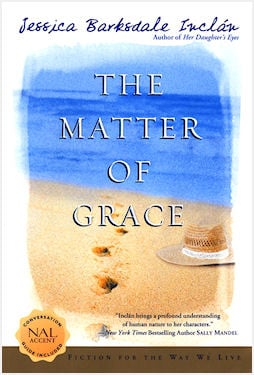 "Four Oakland women who meet every week at a local swim club find the limits of their friendship tested in Incl n's engaging, down-to-earth second novel. Grace White is the beautiful, stoic redhead who survived her initial bout with skin cancer, but the disease has returned after a lengthy remission, forcing her to break the news to her three best friends. The other members of the 30-something quartet do their best to help out and support Grace, but they have their own personal problems: Felice Gaitreaux's marriage to her college sweetheart, James, is in serious trouble, while Helen Jordan is having an affair with a younger man and Stella Steinberg is about to have her life turned upside down by a surprise pregnancy. Incl n's writing about the dizzyingly twirls of the marital merry-go-round occasionally veers toward soap opera, but the novel turns compelling during a series of revelations that lead Grace's friends to suspect her of going to incredible lengths to conceal an eating disorder. Inclan (Her Daughter's Eyes) has a sharp, compassionate feel for how women look at relationships, sex and marital issues; her female characters are strong and well drawn, although their male counterparts often seem a bit incomplete. The twists and turns of Grace's story will keep readers guessing until the final chapters, and Incl n's laudable decision to steer around the usual happy ending is both honest and realistic without being overly grim."