The Instant When Everything Is Perfect
Mia thought she had everything-a thriving career, a wonderful husband, and two beautiful sons. But illness shakes her out of her comfort zone when her mother is diagnosed with breast cancer. At her mother's bedside, she meets someone whose presence seems to fill a void in her, a void she wasn't even aware existed.

Robert is happily convinced he's going to spend his life alone until he meets Mia, who makes him question everything. As a surgeon, he's helped many women put their lives back together. And despite his compelling feelings about Mia, he doesn't want to make hers fall apart.
I enjoyed this book: a slightly different take on infidelity, along with a brilliant perspective of mother/daughter relationships. An easy read, enjoyable characters.--a
Goodreads reader.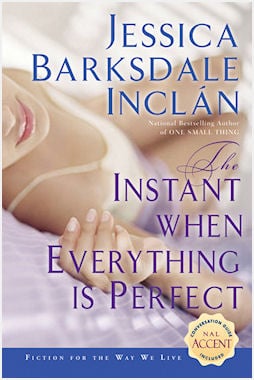 "Inclán's characters are very real people who must face their human foibles and cope with everyday crises. Her latest novel shines with emotion and tremendous depth of feeling, treating readers to an engaging, captivating experience."

Top Pick!, Four and a half stars
Romantic Times, Sheri Melnick