The hardest sweet is sharp to the tongue, painful, cutting, and often divine. The poems in Jessica Barksdale's collection Grim Honey follow thin paths of grief, up through steep switchbacks and down the rocky declines into the meadows, where for a moment, we can pause and remember before moving on. The speakers in these poems open to their sorrows and passions and then push forward into stories that—while understood—are still evolving. Barksdale moves through issues of family, love, and death, delving into what is beautiful as completely as what is not to show the fullness of life.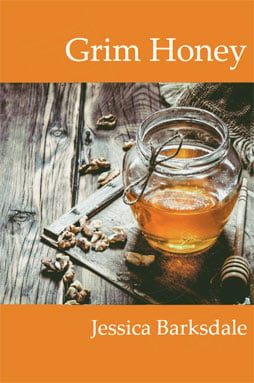 "Grim Honey explores the messiness of the human body and a constellation of losses. Barksdale writes with great verve and energy about every subject from family to travel to death. There's an urgency to these poems, a persistence in all things, whether it's the writing itself or the cataloguing of the world's beauties and tragedies. She knows how to turn a curse into a benediction, an old kitchen into the site of new memories, each pain into the story of a deeply lived life."
- Traci Brimhall, author of Come the Slumberless to the Land of Nod and Rookery
"A poignant poetry collection, Grim Honey is a riveting read that will leave you with a lot to ponder. Jessica Barksdale uses a variety of styles and structural experimentation to pen an enthralling post-modern collection of poems that explores the human condition through a vast spectrum of ideas, themes, and subject matter. Each poem brings something unique to the narrative. Some of them seem abstract, while some deal with the everyday struggles of life. Nostalgic and, at times, melancholic, Barksdale's poems feel intimate and personal yet touch upon universal themes of love, loss, and grief that make them thoroughly captivating. If I have to choose my favorites, I'll pick "Knock, Knock" and "The World Was Once an Ocean." This is a must-read for all poetry lovers out there."
- Pikasho Deka, Reader's Favorite Book Reviews